Top Robotic Process Automation (RPA) Trends and Forecasts for 2023 
As the use of Robotic Process Automation (RPA) continues to grow, it's important to stay informed on the latest trends and forecasts in the industry. RPA, a technology that utilizes software robots, or "bots," to automate repetitive and mundane tasks typically done by humans, is expected to see even more widespread adoption in the coming years. In this article, we will explore the top RPA trends and predictions for 2023. 
The advent of Artificial Intelligence (AI) and the advancement of Machine Learning (ML) techniques have led to significant breakthroughs in various fields:
According to estimates, more than 40% of service desk operations are to be eliminated by intelligent automation by 2025, unlocking unattended modes of automation combining RPA with AI/ML.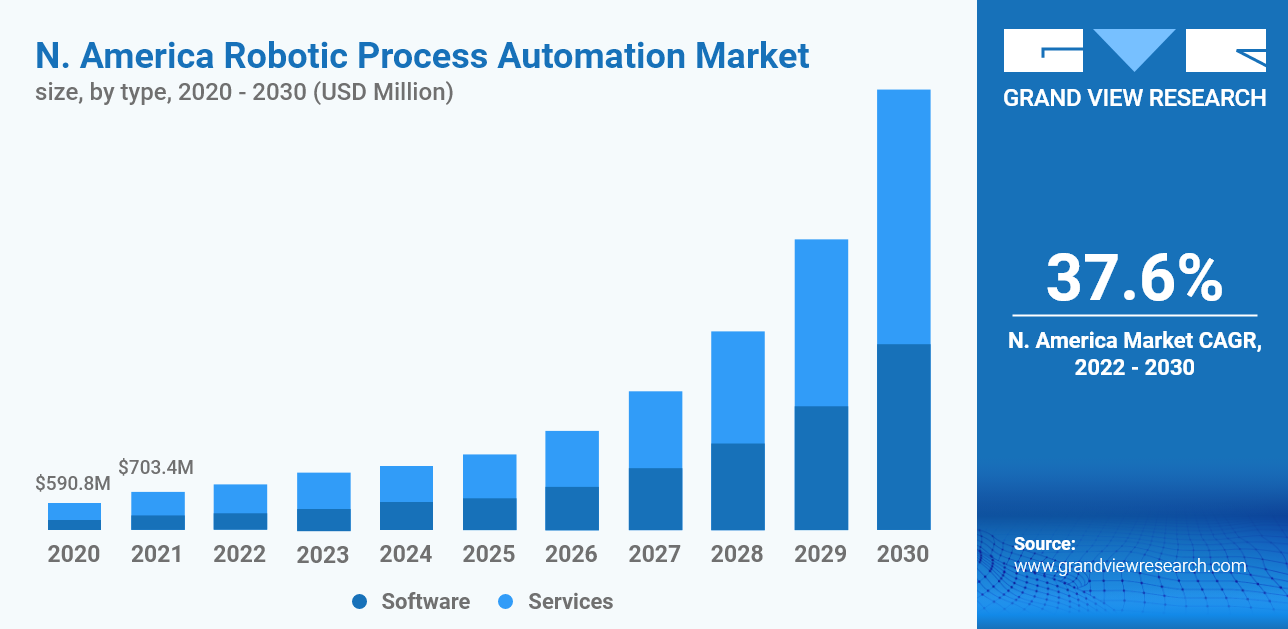 Read more at https://www.grandviewresearch.com/industry-analysis/robotic-process-automation-rpa-market  
As closely related technologies, RPA and AI/ML are expected to evolve in tandem in the coming years, with RPA leveraging the integration of AI and ML to perform increasingly complex tasks and make autonomous decisions. This will result in the development of more advanced and intelligent software robots. 
The rise of low-code and no-code platforms has revolutionized the way businesses and individuals create and implement technology solutions:
As low-code and no-code platforms continue to gain popularity, it is anticipated that this trend will persist in the foreseeable future. According to Gartner, the worldwide market for low-code development technologies is projected to total $26.9 billion in 2023, growing nearly 20% from 2022.
Read more at https://www.gartner.com/en/newsroom/press-releases/2022-12-13-gartner-forecasts-worldwide-low-code-development-technologies-market-to-grow-20-percent-in-2023 
These platforms offer a user-friendly approach to creating and deploying RPA bots, eliminating the need for coding expertise. As a result, businesses will find it more accessible to adopt RPA, without the requirement for a specialized IT team. 
The implementation of Robotic Process Automation (RPA) in the healthcare industry can greatly improve efficiency and patient care:
According to Precedence Research, the global RPA in healthcare market is expected to reach around USD 6.2 billion by 2030 with a registered CAGR of 26.01% from 2022 to 2030.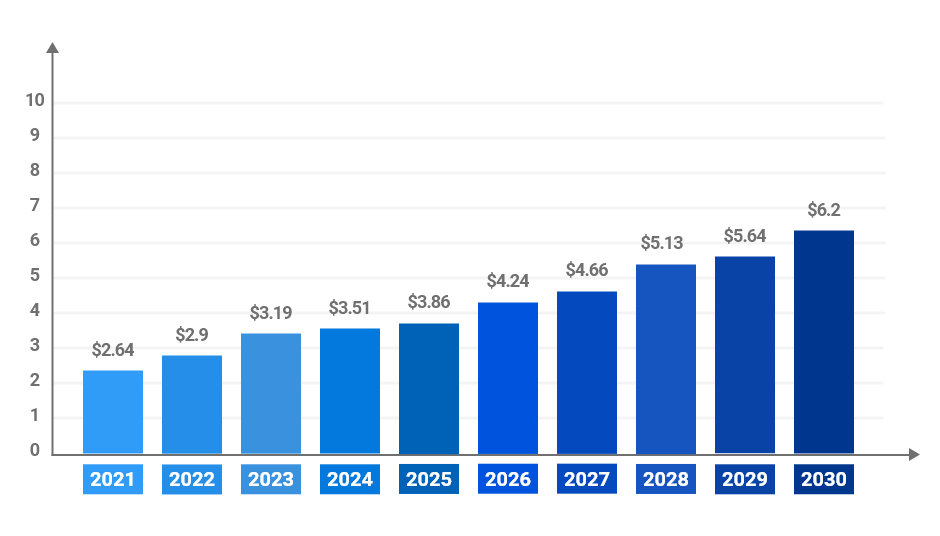 Read more at https://www.precedenceresearch.com/robotic-process-automation-in-healthcare-market#:~:text=The%20global%20robotic%20process%20automation,26.01%25%20from%202022%20to%202030 
In the healthcare industry, RPA is currently utilized to streamline repetitive tasks such as data entry and appointment scheduling. However, with advancements in technology, it is anticipated that RPA will soon be applied to more complex applications, such as the analysis of medical imaging using ML. 

Leveraging the benefits of RPA technology in a cloud environment:
Gartner analysts predict that more than 85% organizations will embrace a cloud-first strategy by 2025. As such, according to Gartner estimates, over 95% of digital workloads will be deployed on cloud-native platforms by 2025, witnessing a dramatic growth from 30% in 2021.
Read more at https://www.gartner.com/en/newsroom/press-releases/2021-11-10-gartner-says-cloud-will-be-the-centerpiece-of-new-digital-experiences 
As cloud computing continues to gain traction, it is anticipated that RPA will also shift towards the cloud soon, providing businesses with the convenience of accessing RPA remotely and the flexibility to easily adjust the scale of their RPA deployment as their needs change. 
The adoption of RPA in small and medium-sized businesses is on the rise:
As small and medium-sized businesses become aware of the advantages of RPA, such as automating repetitive tasks, boosting efficiency, and cutting costs, it is anticipated that the adoption of RPA will shift from being primarily embraced by large enterprises to being embraced by a wider range of businesses in the future. 
Provided the fact that Forrester's forecast report predicts the RPA market to grow to $22 billion by 2025, this will potentially help the SMEs follow in the footsteps of the large enterprises with higher ROI in mind.
Read more at https://www.forrester.com/report/the-rpa-market-will-grow-to-usd22-billion-by-2025/RES177085 
Conclusion: 
As the integration of AI and ML advances, RPA is projected to experience significant growth in the upcoming years, particularly among small and medium-sized businesses. Adoption will be facilitated by the availability of low-code and no-code platforms, as well as the increasing use of RPA in the cloud, making it more accessible to a wider range of organizations.
Furthermore, the utilization of RPA in healthcare will see a notable increase, as it will be applied to more advanced applications.