Outcome Focused Strategy Consulting
Actionable Roadmaps and Defined Returns
What is Modernization & Why
It's So Important
Modernization: the continuous pursuit of seamless integration between People, Processes & Technology
Modernization in itself is not a new concept. In fact, it is a concept that has been around since the dawn of the modern enterprise, a goal that Organizations are constatnly trying to achieve to gain competitive advantage.
With the rise of digital transformation, organizations need to be able to quickly adapt and respond to customer needs, market shifts, and technology changes. To do this, they need to have a clear modernization strategy in place.
Accelirate understood this fundamental need and dedicated an entire practice of consultants whose sole focus is to design a future 'modernized state' that aligns with goals of the business.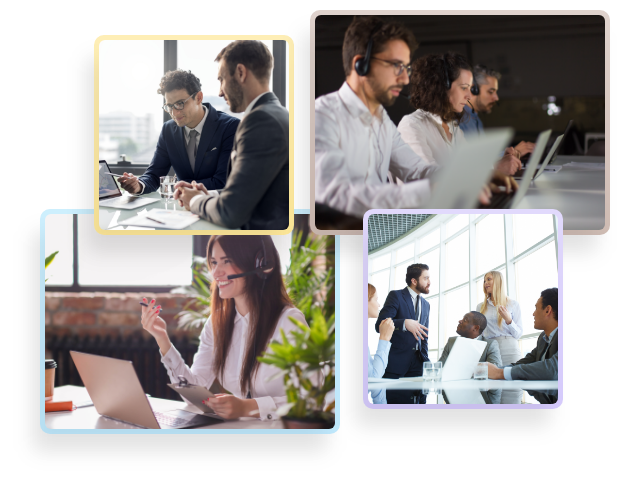 Process architects start with a firm understanding of the structure of the enterprise as well as the primary motivators of the key stakeholders for all key focus areas, functional areas, and departments.
Role Analysis Questionnaires are reviewed and interviews are conducted with Subject Matter Experts (SME) who best exemplify the key roles and transactions within each department.
An understanding of the "Day in the Life" of the SME as well as a list of the core tasks of that department is gained to finalize the full picture of the "as-is" process.
Process Architects identify key workflows and transactions within departments, starting with the daily tasks that account for a majority of each SME's daily workload.
These transactions are then grouped into potential candidates for emerging technology opportunity evaluation.
All candidates are assessed using a proprietary business analysis tool to determine the potential ROI as well their suitability for automation improvements.
Candidates with sufficient ROI and emerging technology suitability become opportunities that are added to an optimization/transfomration project pipeline.
Objective of your
Modernization Program
HOW DOES MODERNIZATION ACCELERATE YOUR BUSINESS OBJECTIVES?
To further break down the "why", ther are essentially 4 key motivators to modernize your Organization:
Optimize Operations: Increase Capacity, Improve Outcome Quality, Build Business Continuity
Enhance Customer Experience: Deliver personalized experiences, Gain customer & market insights, Understand customer needs
Enhance Employee Experience: Improve performance & engagement, Foster innovation, Increase Retention Rate
Maximize Revenue: Eliminate cost-creating redundancy, Drive new revenue stream, Gain market differentiation
When it comes to business modernization, it's important to align strategies with enterprise business drivers to maximize value. To effectively align strategies with business drivers, organizations must first understand the goals of the business and develop a plan that supports those objectives. By aligning strategies with enterprise business drivers, businesses can ensure they are maximizing the value of their modernization efforts and stay competitive in an ever-changing marketplace.
Modernization Enables Organizations to

Achieve their Core Objectives Faster
How We
Approach Modernization
Modernizing businesses is an ongoing process that requires constant adaptation to new innovations. We utilize a framework to help guide our approach to modernization, including technologies such as Robotic Process Automation (RPA), Intelligent Document Processing (IDP), Data & Analytics, Integration Platform as a Service (iPaas), Artificial Intelligence & Machine Learning (AI & ML) to name a few.
Each of these technologies has their own core purpose: RPA technology automates manual tasks, allowing businesses to complete processes more quickly and efficiently. IDP uses intelligent algorithms to analyze digital documents and extract data for improved accuracy. Data & Analytics enables businesses to gain valuable insights from data and use it to improve their operations. iPaas can be used to create secure and scalable integration solutions between systems. Finally, AI & ML can be used to automate processes and make decisions based on data. By leveraging these core components, businesses can be better equipped to stay ahead of the curve and stay competitive in their industry.
The Practical
Modernization Toolkit
Evaluating For
Modernization Suitability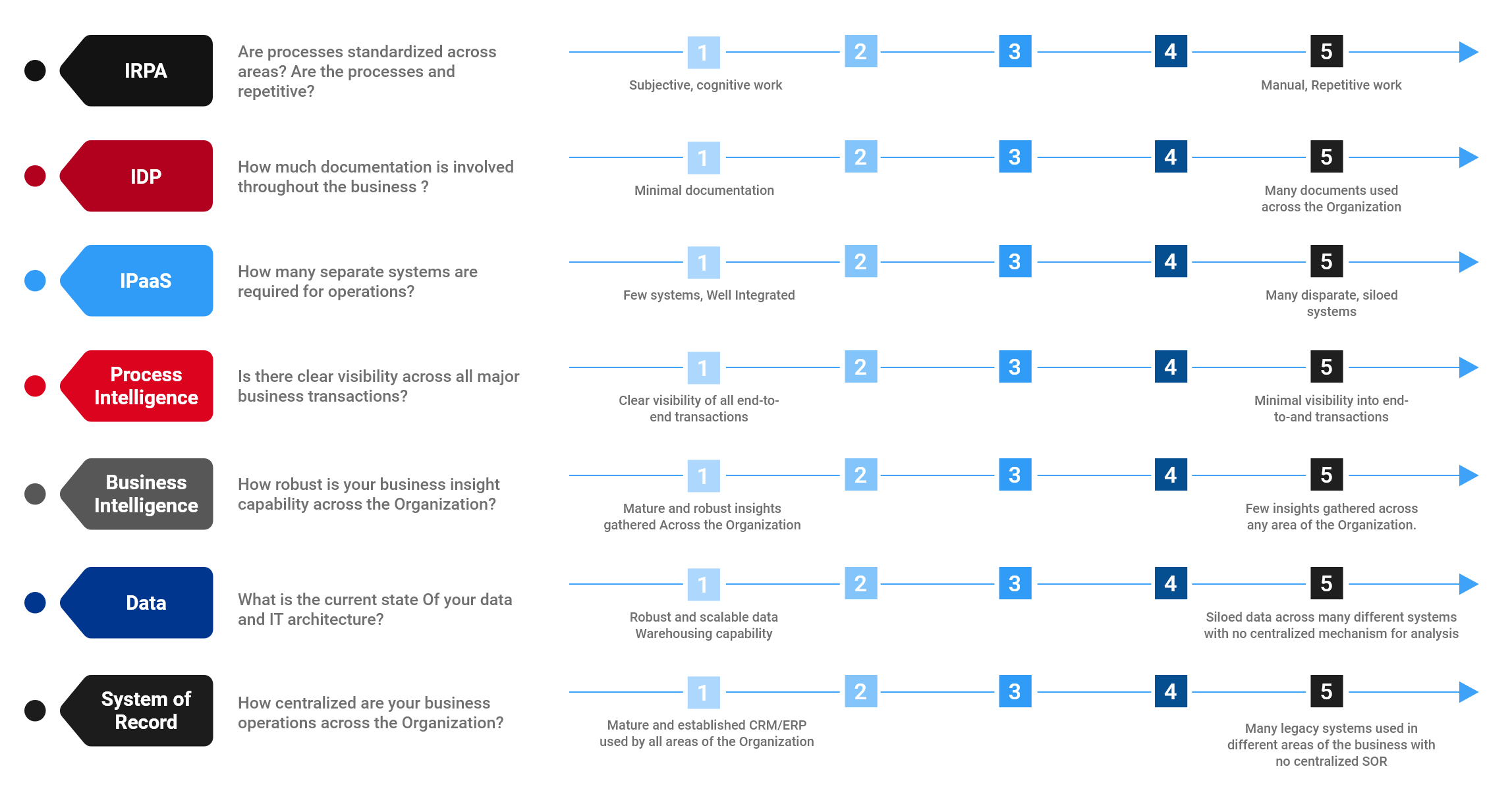 Accelirate's Strategy
Consulting Deliverables
Enterprise Business Process
What is Strategy Consulting for Emerging

Technology and Automation?
Strategy Consulting for automation is expert guidance through the continuous pursuit of seamless integration between people, processes, and technologies. Success in automation requires more than just great technology solutions; it requires a thought out strategy for where, how, and when to implement different kinds of solutions in various business and process areas.
Minimum Reduction in Operating Expenses
Double Organization's Data Accuracy
Elevate Employee Satisfaction
Minimum Increase in Workforce Capacity
"Outcome Engineering" programs provide a comprehensive strategy that is designed to establish or scale any modernization program.
A collaborative program with the purpose of uncovering the areas within an enterprise where automation can make the greatest strategic impact.
A managed service program that is designed to provide key operational insights that visualize bottlenecks and inefficiencies that can be modernized with objective value estimates.