Process Optimization and Automation Opportunity Discovery
Discover Actionable Optimization and Automation Opportunities within your Organization
Business Process Analysis and Assessment for Emerging
Technology Opportunity Identification
What is Solution Discovery
Solution Discovery is a formal process of identiying key business problems an ideating the what combination of technologies and process reengineering would best address those problems.
Take Your Program to the Next Level
Solution Discovery is our flagship discovery service designed to build a pipeline of qualified and ROI-focused digital opportunities quickly and efficiently.
Whether an organization has new initiatives and are looking to jumpstart their digital transformation, or has a mature COE that is looking to expand into new areas, such as document processing, process mining, data analytics, or business intelligence, Accelirate's Solution Discovery provides an agile, nondisruptive way to take organizations to the next level.
Why Do Digital
Initiatives Fail?
Solution Discovery can be as simple as is reading up on uses cases, or asking managers what they want automated. But the difference between the automation programs that scale and the ones that don't is the use of a formalized approach for Solution Discovery. Many programs fail when the low hanging fruit automations are all exhausted and the program is left in want of opportunities valuable enough to justify the effort to develop them. With our expertise in identifying automation potential, your program will have a robust pipeline to continue to generate value for your business.
Lack of Formalized Discovery Methodology or "Digital Strategy"
Without a formalized discovery methodology, organizations run the risk of sinking time and resources into projects not suited for the desired solution. There are various applications for emerging technology such as process automation, business intelligence, and integration platforms. Enterprises need to adopt solutions as such to save time, money, and more importantly stay competitive in their respective markets.
Solution Discovery and pipeline building allows organizations to transform with tech solutions while meeting the KPIs and Value Metrics for stake holders. Without discovery returning low value solutions is imminent and robust pipelines for continued initiatives are non-existent.
Lack of Transformation Commitment From Top Management
Without serious investment and emerging technology champions within upper management, it's difficult for digital initiatives to achieve scale. Programs without this find themselves spinning their wheels in a single department and struggling to make a real impact with digital transformation throughout the entire business.
Solution Discovery allows a program to think in terms of enterprise scale from the beginning by finding truly strategic opportunities that will ensure executive sponsorship. The diversity of technological solutions that can be implemented after discovery ensures that every area of the business, regardless of motivators or pain points, will be able to benefit from emerging technology initiatives.
Not Having a Robust & Flexible Project Pipeline
A robust and flexible emerging technology project pipeline helps create a self-funding program that brings the organization confidence in the technology.
This ideal pipeline provides continuous opportunities for transformation within the business and, more specifically, opportunities that return significant benefits and savings.
A strong pipeline of emerging technology projects ensures that value is delivered to the business.
Digital Process Solutions are something that can provide strategic value to an enterprise when executed correctly.
However, not everything can be automated and digitized nor should everything be automated and digitized.
Having a deep understanding of the capabilities of emerging technology solutions is key to prioritizing efforts and delivering ROI.
What you can expect from a
Solution Discovery

exercise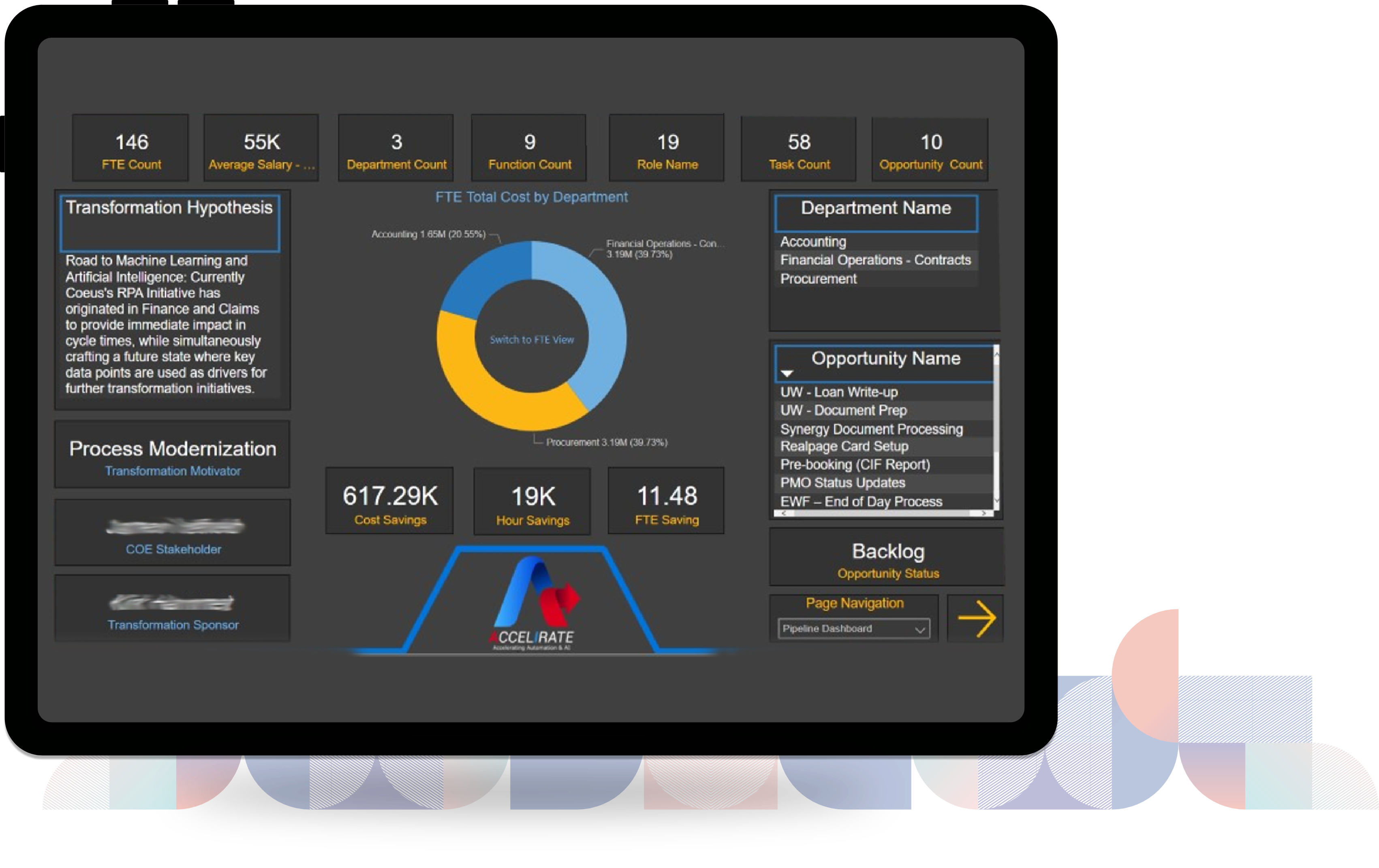 With Accelirate's Solution Discovery exercise, we use a combination approach of interviews, systematic data collection, data visualization, and transaction analysis to give an "X-Ray" of your enterprise and where automation can have its greatest impact. Our focus is to standardize with you what you are looking to get out your automation program and to tailor a pipeline to to fit those goals.
Where can Solution
Discovery be applied
How We Look at Enterprises
Solution Discovery can be implemented anywhere in a enterprise where you are looking to realized the benefits of automation. However,There are a few factors to consider when determining which business units should be prioritized for solution discovery. One factor to consider is the importance of the business unit to the overall organization. For example, if a particular business unit is responsible for a large portion of the company's revenue, it may be more important to focus on optimizing its processes in order to maximize profitability. Another factor to consider is the complexity of the business unit's processes. If a business unit has many complex, interdependent processes, it may be more difficult to optimize and may therefore be a higher priority for solution discovery.
Other factors to consider may include the potential impact of process improvements on customer satisfaction, the potential for cost savings, and the ability to scale the improvements across the organization. Ultimately, the business units that are prioritized for solution discovery will depend on the specific goals and objectives of the organization, as well as the resources available for process improvement efforts.
When do Organizations need
Solution Discovery?
With low hanging fruit in your sights, it's hard not to want to start right implementing solutions (and a lot of programs do). But, Solution Discovery is about setting your program up for sustained success. By developing a robust of pipeline of opportunities you can start creating a successful track record for your program and always know what your next success is going to be.
When Should An Organization

Implement Solution Discovery Practices?
100% of successful long-term digital optimization programs start with a formalized discovery practice. Formalized discovery practices create self-funding transformation programs and bring the organization confidence in the technology.
As long as transformation initiatives are active, there will always be some form of discovery performed to decide which areas are a good fit and which emerging tech solution can meet the business's needs. With Solution Discovery, our business analyst team can help clients achieve an ROI-heavy digital transformation program with a robust pipeline of future emerging technology projects. As organizations adapt and shift their focus towards new goals, continuous discovery can guide organizations to lean and efficient operations fueled by digital solutions.
The most important thing to remember when tackling initiatives is whether or not the best processes are being pursued and what emerging technology will most effectively solve for their process needs.