Solution Discovery and Pipeline Creation
Business Process Analysis and Assessment for
Emerging Technology Opportunity Identification
What is Solution Discovery?
Solution discovery is a value-driven activity that objectively looks at the work performed within a business area to identify opportunities that directly address the key motivators of the business. This can take the form of systematically analyzing business processes end-to-end, or simply soliciting ideas for solutions directly from process owners. Being able to analyze processes to determine areas where emerging technologies can fit within critical operations is crucial to successfully completing digital initiatives. Our Solution Discovery Program is able to identify where and what Global Emerging Technology Delivery Pods are needed to deliver real business value quickly.
Take Your Program to the Next Level
Solution Discovery is our flagship discovery service designed to build a pipeline of qualified and ROI-focused digital opportunities quickly and efficiently. Whether an organization has new initiatives and are looking to jumpstart their digital transformation, or has a mature COE that is looking to expand into new areas, such as document processing, process mining, data analytics, or business intelligence, Accelirate's Solution Discovery provides an agile, nondisruptive way to take organizations to the next level.
Why Do Digital
Initiatives Fail?
Lack of Formalized Discovery Methodology or "Digital Strategy"
Without a formalized discovery methodology, organizations run the risk of sinking time and resources into projects not suited for the desired solution. There are various applications for emerging technology such as process automation, business intelligence, and integration platforms. Enterprises need to adopt solutions as such to save time, money, and more importantly stay competitive in their respective markets. Solution Discovery and pipeline building allows organizations to transform with tech solutions while meeting the KPIs and Value Metrics for stake holders. Without discovery returning low value solutions is imminent and robust pipelines for continued initiatives are non-existent.
Lack of Transformation Commitment From Top Management
Without serious investment and emerging technology champions within upper management, it's difficult for digital initiatives to achieve scale. Programs without this find themselves spinning their wheels in a single department and struggling to make a real impact with digital transformation throughout the entire business.
Solution Discovery allows a program to think in terms of enterprise scale from the beginning by finding truly strategic opportunities that will ensure executive sponsorship. The diversity of technological solutions that can be implemented after discovery ensures that every area of the business, regardless of motivators or pain points, will be able to benefit from emerging technology initiatives.
Not Having a Robust & Flexible Project Pipeline
A robust and flexible emerging technology project pipeline helps create a self-funding program that brings the organization confidence in the technology. This ideal pipeline provides continuous opportunities for transformation within the business and, more specifically, opportunities that return significant benefits and savings. A strong pipeline of emerging technology projects ensures that value is delivered to the business.
Unrealistic Expectations
Digital Process Solutions are something that can provide strategic value to an enterprise when executed correctly. However, not everything can be automated and digitized nor should everything be automated and digitized. Having a deep understanding of the capabilities of emerging technology solutions is key to prioritizing efforts and delivering ROI.
Benefits of a Solution
Discovery Engagement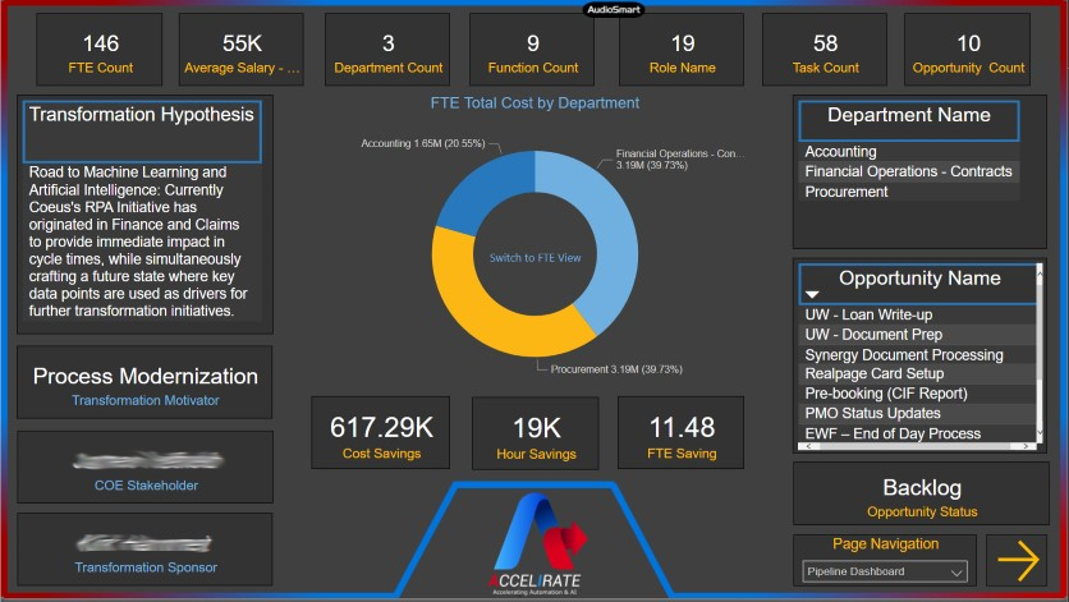 Robust Emerging Technology Project Pipeline
Knowledge of the desired Emerging Technology and Its Impact on the Business
Systematically Targeting Returned Value from Emerging Technology
A Self-Funding Digital Program
Pipeline and Project Map for Emerging Technology Delivery Pods
Objective-Focused

We do not simply ask the business what they want to transform
We capture the work being performed, analyze the work for Emerging Technology feasibility as well as potential value, and create a pipeline with high-value opportunities

High Visibility Through Proprietary Discovery Dashboards

The business can see the value of an emerging technology solution before project execution
Can select priority projects based on tangible and evidentiary analysis results
Where Can
Solution Discovery Be Applied?
Virtually any department will have ROI-rich opportunities for digital solutions. No matter the department, Solution Discovery can be applied and can even further help decide in which business areas to start. Our business unit assessment tool preliminarily analyzes emerging technology feasibility and potential value for different business units within an organization. The Accelirate team is able to guide the client and help them decide which areas to focus in based on business needs and goals.
When Should An Organization
Implement
Solution Discovery Practices?
100% of successful long-term digital optimization programs start with a formalized discovery practice. Formalized discovery practices create self-funding transformation programs and bring the organization confidence in the technology.
As long as transformation initiatives are active, there will always be some form of discovery performed to decide which areas are a good fit and which emerging tech solution can meet the business's needs. With Solution Discovery, our business analyst team can help clients achieve an ROI-heavy digital transformation program with a robust pipeline of future emerging technology projects. As organizations adapt and shift their focus towards new goals, continuous discovery can guide organizations to lean and efficient operations fueled by digital solutions.
The most important thing to remember when tackling initiatives is whether or not the best processes are being pursued and what emerging technology will most effectively solve for their process needs.