Accelirate Named a Best Place to Work in IT 2021 by IDG Computerworld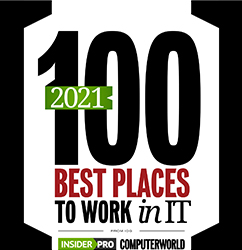 The top RPA Services firm ranked #19 among small organizations nationwide Leading RPA and AI Services provider Accelirate Inc. has been named one of IDG Insider Pro and Computerworld's 2021 Best Places to Work in IT, ranked No. 19 among small organizations.
Each year, 100 organizations are selected based on a comprehensive questionnaire evaluating company benefits, work environment, career development, and retention. This is Accelirate's third consecutive year being recognized for its exceptional approach to workplace inclusion, employee benefits and professional development.
The IT field has always been a source of workplace innovation, but the pandemic added new challenges around remote work, collaboration and maintaining programs to support employees. "Despite the overwhelming obstacles the pandemic has created for many businesses, IT has managed to thrive and, in fact, become more essential in the workplace. Attracting and retaining top IT talent to research, deploy and maintain technology has never been more critical," said Kate Hoy, editor of IDG's Insider Pro. The 2021 Best Places to Work in IT honorees were companies that placed a strong focus on their employees in a challenging year, particularly around career development, training, benefits and retention efforts.
Accelirate's HR Team took a comprehensive approach to fostering a flexible and engaging work environment amid the past year's shift to remote work, making it a priority to provide the programs and resources needed to enhance morale and team connectedness. This included virtual company-wide townhall discussions, digital wellness workshops, and thoughtful care packages for new hires.
"We have always made an effort to cultivate an excellent workplace – sustaining that culture during remote work was a serious priority this year. The focus on camaraderie and teamwork during this time enabled our team to keep providing clients with the exceptional delivery capabilities we've become known for," said Gabriela Enriquez, Accelirate's Chief HR Officer.
Along with the engaging remote work culture, employees referred to Accelirate's challenging projects, robust benefits, and welcoming, inclusive environment as some of the top reasons they take pride in working for the RPA services firm. Respondents also mentioned the opportunities Accelirate offers for career growth in such a rapidly evolving industry, as well as an executive team that shows interest in their people.
"We are known in the industry as the go-to specialists in automation, and it's because we understand that quality work begins with happy employees," Enriquez said. "We take our time before onboarding talent to make sure we find competence, grit, and a can-do attitude in each of our employees upon hiring. Because of this, it is both our pleasure and our responsibility to make our team understand how valuable they are towards our overall growth and success."