The case study revolves around an RPA Real Estate and Construction Client that leveraged RPA (Robotic Process Automation) to transform its employee onboarding process. The company's HR Department handles the onboarding process, including setting up new accounts in Microsoft Exchange and 365, and determining the necessary product licenses for new hires based on their positions and organizational units. With a significant influx of about 70 new hires each month, the company sought to streamline this navigation-intensive process while ensuring accurate and efficient account setups.
The company faced several challenges in its employee onboarding process. The manual nature of setting up accounts in Microsoft Exchange and 365 resulted in a time-consuming and error-prone process. The handoff between two separate HR groups for Exchange accounts and 365 licenses added friction and inefficiencies to the overall process. Additionally, the lack of standardized information management across the HR department created inconsistencies and potential errors during onboarding.
To address these challenges, the company implemented an automated solution using RPA technology. The automated process involves a Bot that performs various tasks to streamline and optimize the employee onboarding process. Here are the key steps of the automated solution:
Bot Reads Ticket: When a new employee is hired, a ticket is submitted to the HR management system containing relevant details. The Bot accesses the ticket, extracts user information, and proceeds with the onboarding process.
Bot Creates Exchange Account: The Bot enters the Exchange admin center and sets up an account for the new hire using the information obtained from the HR ticket. It then assigns the user to the appropriate organizational unit.
Bot Creates AD Profile: The Bot logs into Active Directory and creates a profile for the new user, including their name, email address, job title, and manager. Access rights are granted based on the user's organizational unit.
Bot Assigns Licenses: The Bot accesses Microsoft 365 and selects the necessary product licenses for the new user based on their division and organizational unit. It also assigns a Skype for Business phone number.
Bot Submits Ticket: After completing all the necessary setups, the Bot returns to the HR system, fills out a checklist on the new hire ticket, and submits it. Additionally, the Bot generates a PDF containing the new user's information, which is then emailed to the HR department for record-keeping.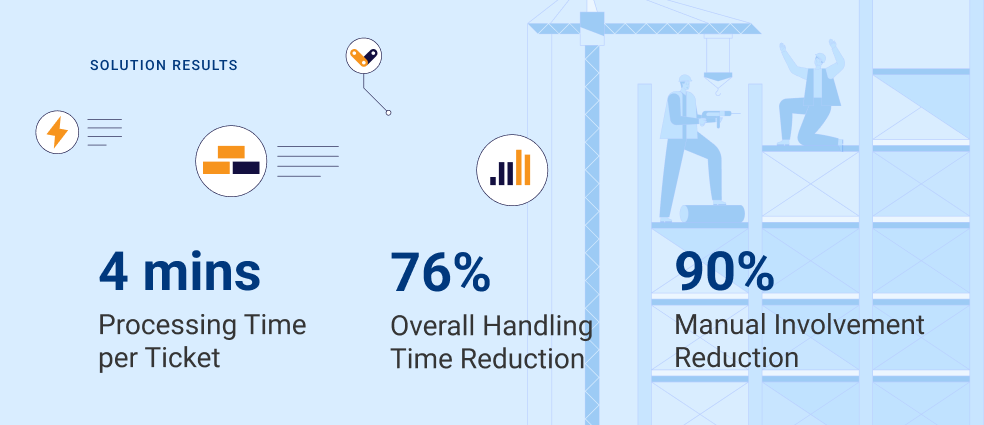 Implementing the RPA solution yielded significant improvements and benefits for the company's employee onboarding process. The results of the automated solution were as follows:
Processing Time per Ticket: The automated process reduced the time taken to process each ticket to just 4 minutes.
Overall Handling Time Reduction: The company experienced a remarkable 76% reduction in the overall handling time of the onboarding process.
Manual Involvement Reduction: With most tasks automated, the company achieved an impressive 90% reduction in manual involvement, freeing up HR resources for more strategic initiatives.