We recently hosted an inspiring Townhall event for our global employees. The event served as a platform to unveil our plans for employee development, showcase remarkable achievements, and emphasize the company's commitment to nurturing long-term relationships with its valued customers.
Employee Development Takes Center Stage:
At Accelirate, we are dedicated to fostering the professional growth of our employees.
The Townhall highlighted the company's plans for employee development, including.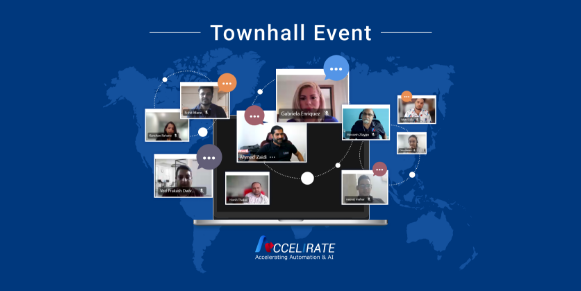 Learning And Development:
At Accelirate, we prioritize continuous training and development opportunities for its workforce. Employees are equipped with the skills to excel in their roles through professional development programs, certifications, and various internal workshops and webinars.
At Accelirate, we understand the importance of recognizing outstanding contributions. Initiatives like the Accelirate championship program ensure that employees' efforts are acknowledged, measured, and rewarded, creating a culture of appreciation.
Building A Growth Mindset:
We encourage a growth mindset among our employees, fostering a culture of continuous learning and improvement. This mindset empowers employees to take on new challenges and embrace innovation.
Celebrating Accelirate's Achievements:
The Townhall also celebrated Accelirate's impressive accomplishments, including:
Expanding Global Footprint:
We boast a network of 375 talented professionals worldwide, contributing to its global presence and diverse expertise.
At Accelirate, our commitment to excellence has resulted in new client acquisitions, building a portfolio of 50+ active clients who trust the company's expertise.
Emphasizing Returning Customers:
At Accelirate, our dedication to delivering exceptional service extends beyond acquiring new clients. The Townhall highlighted the company's focus on nurturing returning customers, fostering long-term partnerships, and delivering continued value through:
Our expertise in Generative AI has contributed to its growth, attracting Fortune 1000 customers who appreciate the transformative capabilities of this cutting-edge technology.
Our proficiency in Test Automation has helped clients optimize their processes, increase efficiency, and achieve better outcomes.
Accelirate continues to build vertical capabilities, enabling the company to provide industry-specific automation solutions tailored to clients' needs.
Accelirate's Townhall event was a resounding success, reinforcing its commitment to employee development, showcasing remarkable achievements, and highlighting its focus on building lasting customer relationships. As Accelirate continues to drive innovation and deliver exceptional 
automation solutions
, it remains dedicated to empowering its employees, fostering growth, and creating value for its expanding client base.