Accelerating Cloud Migration with MuleSoft and AWS: Best Practices and Strategies.
Featured Insights
June 16, 2023
Are you still hesitant about migrating to the cloud, keeping all your data and operations on-premises? It is understandable, and many of us share the same concerns about making the switch. However, let us explore why cloud migration will become a necessity soon for all information practices and services.
During the COVID-19 pandemic, we experienced the challenges of being confined to remote locations and the worries that came with it. Who would handle the servers? How would our operations function? Enter the "CLOUD" as our savior. Organizations leveraging cloud services seamlessly continued their operations without concerns about servers or autoscaling strategies. It was all just a click away—an amazing solution indeed.
Now, let us delve deeper into how two exceptional platforms, "Amazon Web Service" and "MuleSoft," can accelerate your migration journey. As you embark on the cloud migration path, you may encounter challenges in integrating your existing systems and applications seamlessly. This is precisely where MuleSoft, a market-leading integration platform, and Amazon Web Service (AWS), a dominant cloud computing product, come into play.
Unlocking Seamless Connectivity:MuleSoft Integration Solution has revolutionized the way organizations connect their data, systems, and devices effortlessly.
With MuleSoft's innovative API-Led connectivity approach, the system becomes highly adaptable, allowing for smooth integration of enhancements or changes to data and systems without disrupting existing integrations. Say goodbye to the hassles of breaking existing connections!
Experience Efficiency at Your Fingertips: MuleSoft boasts a diverse range of pre-defined connectors, empowering users to hit the ground running. With a simple configuration, you're all set to go, saving valuable time and effort.
Fortify Your Security Measures: Rest assured about data and system security with MuleSoft. It offers easy implementation of API-level security measures and policies, ensuring your organization's information remains protected.
Step into a World of Seamless Integration: MuleSoft's feature-rich platform empowers organizations to establish robust connections, adapt to changes effortlessly, and prioritize security with its user-friendly and powerful capabilities. Get ready to elevate your connectivity game!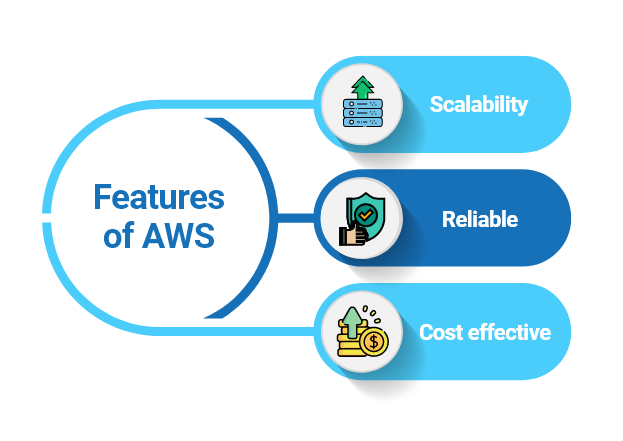 Let's explore some of the standout features offered by Amazon Web Services (AWS).
Versatile Computing Power: AWS offers a comprehensive suite of computing services, ranging from scalable servers (EC2) and container management (EKS) to cutting-edge serverless computing with AWS Lambda. Flexibility is at your fingertips.
Seamless Scalability: With AWS, scaling your infrastructure is a breeze. Effortlessly adjust your resources up or down based on demand, ensuring your systems can handle any workload with ease.
Reliability Redefined: Rest easy with AWS's robust and resilient infrastructure. Built to minimize downtime and maximize availability, you can rely on AWS to keep your applications up and running without interruption.
Cost Optimization Made Simple: Embrace the cost-effective nature of AWS. Say goodbye to hefty upfront investments in servers and databases. AWS's pay-as-you-go model means you only pay for what you use, allowing your organization to optimize costs and allocate resources efficiently.
Embrace the Power of AWS: With its versatile computing services, seamless scalability, unmatched reliability, and cost-effective approach, AWS empowers organizations to unlock their full potential and drive innovation in the cloud. Get ready to soar to new heights!
Integration Mulesoft With AWS:
Experience the ultimate integration synergy by combining the prowess of MuleSoft and Amazon Web Services (AWS). This powerful union enables businesses to unlock unparalleled potential, seamlessly migrate to the cloud, and build robust application networks.
Achieving Seamless Cloud Migration:
Integrate MuleSoft's integration solution with AWS to effortlessly transition your operations to the cloud. Leverage MuleSoft's expertise in connecting data, systems, and devices to ensure a smooth and hassle-free migration experience.
Unleashing the Power of Integration:
By integrating MuleSoft with AWS, businesses can tap into the expansive capabilities of both platforms. Leverage MuleSoft's API-led connectivity, allowing for flexible adjustments and enhancements to your data and systems without disrupting existing integrations. Combine this with the versatile computing services and infrastructure reliability of AWS, and you have a winning combination for unparalleled integration power.
With MuleSoft and AWS integration, benefit from a wide range of pre-defined connectors, empowering you to rapidly configure and deploy integrations. Experience the ease of applying API-level security and policies, ensuring your data and systems are protected while driving business growth.
Seamlessly integrating MuleSoft and AWS opens up a world of possibilities. Leverage AWS's scalable infrastructure and MuleSoft's powerful integration capabilities to drive innovation, streamline operations, and unlock new levels of business success.
Unleash the Power of Integration:
Embrace the dynamic synergy of MuleSoft and AWS. Seamlessly migrate to the cloud, build robust application networks, and unleash the full potential of your business. The possibilities are limitless!
Best Practices For Cloud Migration With MuleSoft And AWS: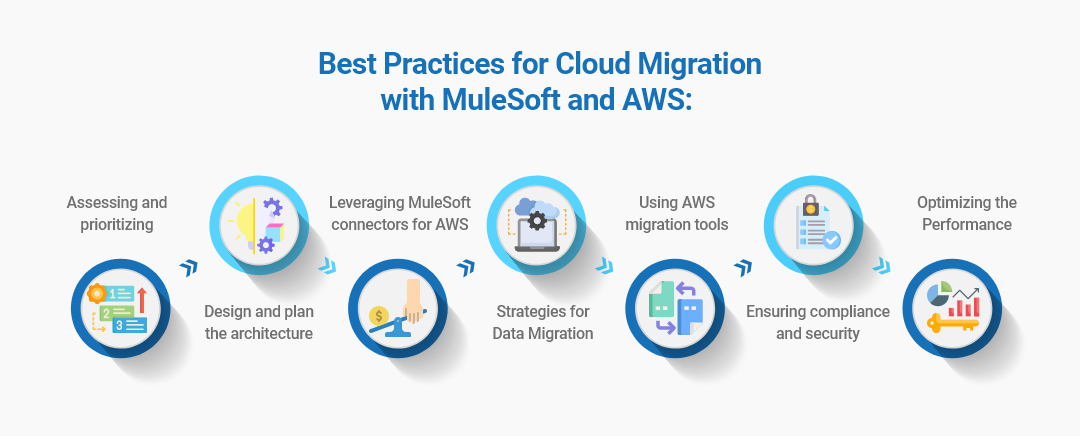 Assessing and prioritizing: Always start by assessing your existing infrastructure, applications, and data sources. We need to Identify which workloads are suitable for the migration process and prioritize them based on their business needs. Assessment will determine how complex the migration is and what the scope is involved.
Design and plan the architecture: Develop a comprehensive migration plan and architecture that considers factors such as performance, scalability, data security, and compliance requirements. Utilize MuleSoft's Anypoint Platform to design integration flows that help us connect applications and systems with AWS services seamlessly.
Leveraging MuleSoft connectors for AWS: MuleSoft has a wide range of pre-built connectors for AWS services, allowing you to integrate with various AWS components effortlessly. These connectors streamline the integration process and simplify the interaction between your applications and AWS services.
Strategies for Data Migration: Define data migration strategies based on the complexity, volume, and criticality of the data. Always consider using AWS dedicated services like AWS Database Migration Service (DMS) or AWS Snowball for large-scale data migrations. MuleSoft's data integration capabilities can greatly facilitate data transformation and synchronization between systems during the process of migration.
Using AWS migration tools: AWS provides a wide range of tools like AWS Database Migration Service (DMS) and AWS Server Migration Service (SMS) to automate and simplify the migration process. Integrate these tools with MuleSoft to orchestrate the migration and monitor the progress.
Ensuring compliance and security: Implementing robust security measures throughout the migration process. Using AWS Identity and Access Management (IAM) for access control and encryption mechanisms provided by AWS services to safeguard your sensitive data. MuleSoft's Anypoint Platform also offers some great features to enforce security policies and manage access to your integrated systems.
Optimizing the Performance: As you migrate applications to AWS, fine-tune the performance by using AWS services like Amazon Elastic Compute Cloud (EC2) instances, Amazon Relational Database Service (RDS), and Amazon Simple Storage Service (S3). Monitor and optimize application performance using MuleSoft's extensive monitoring capabilities and AWS tools like Amazon CloudWatch.
Benefits Of MuleSoft And AWS Integration For Cloud Migration:
Effortless Connectivity: MuleSoft's Anypoint Platform provides seamless integration and connectivity across various systems and applications, simplifying migration.
Flexibility and Scalability: AWS provides on-demand scalability and flexibility, allowing businesses to scale their infrastructure as needed. MuleSoft's integration capabilities ensure that applications can adapt to changing requirements seamlessly.
Robust security: The combined power of MuleSoft and AWS ensures secure data transmission and storage using built-in features provided by both platforms.
Cost optimization: AWS offers cost-effective pricing models, allowing businesses to reduce their infrastructure costs significantly. MuleSoft's capabilities in integration help businesses streamline processes and reduce development and maintenance costs.
Faster time-to-market: The integration of MuleSoft and AWS enables rapid development, deployment, and application integrations, significantly reducing time-to-market for new features and services.
Accelerating Cloud Migration always requires a very comprehensive strategy and selection of the right tools and services. By using MuleSoft's integration capabilities and the cloud services provided by AWS, organizations can streamline their projects and achieve a seamless, secure transition to the cloud. Following the best practices mentioned in the article, Businesses can ensure an easy and successful migration to the cloud, enabling them to leverage the full cloud potential and thus help them to stay ahead of their competitors in today's modern digital landscape