Intelligent Automation Services
RPA Analysis, Development, Implementation and Deployment
Accelirate offers a comprehensive Portfolio of Robotic Process Automation, Artificial Intelligence, and Machine Learning services to deliver real business value to large enterprises.
Our solutions are tailored to the client's particular business needs and cater to their specific imperatives to deliver real ROI. Large consulting firms often spend too much time on lengthy, high-level evaluation that leaves only a few processes in place without real business value. Accelirate's delivery model prioritizes speedy execution to help our clients quickly get their RPA initiatives off the ground and see real business value.
Generative AI
Consulting
Strategy and Planning
Technology Evaluation and Selection
Implementation & Integration
Training & Support
Consumption and Usage-Based

Automation Software Licensing
Our pod-based automation delivery approach ensures all your bases are covered; with each dedicated RPA emerging technology delivery pod including a business analyst, an RPA engineer, and an RPA lead. This coordinated, cross-functional approach allows for the quick and cohesive delivery of skilled business analysis and process documentation, as well as expert automation design and deployment to help our clients see real results from their automation initiatives. Supported by our robust ATLAS team, each automation project pod has the ability to be customized to meet the client's automation needs.
Whether its a human-in-the-loop solution, machine learning algorithm, or a document processing automation, the ATLAS team has specialized and expert-trained resources to to fulfill the clients needs. At Accelirate, we feel that a siloed, "body-shop", approach is not successful in building, deploying, and supporting fruitful process automations long-term, which is why we offer end-to-end solutions built to deliver ROI well into the future.
Mergers and acquisitions
Surge and seasonal processes
Other large-scale data migrations
Application standardization
System modernizations
Customers are not required to consume a minimum number of licenses or minutes and can tailor the model to their needs. Consumption-based pricing is offered in addition to existing automation managed services pricing models.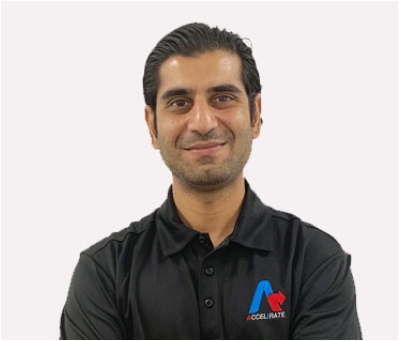 Chief Automation Officer | Managing Partner
Ahmed leads the Project Execution and Research teams at Accelirate. Having led large enterprise scale automation efforts at Global Investment Banks, Ahmed is intimately familiar with the challenges faced by organizations when undertaking transformational projects.
He is the grand visionary for all Accelirate Automation Programs and focuses our teams on producing practical solutions and solving today's business problems using the latest cognitive and AI technologies.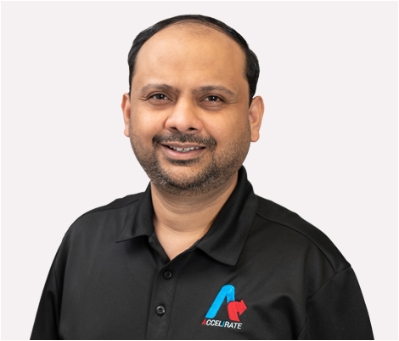 Chief Operations Officer & Partner
As Chief Operations Officer, Harsh works with clients to build strategic AI and automation roadmaps. Harsh holds a Bachelor's degree in Computer Science from the University of Pune located in Western India and is a subject matter expert in automation with more than 15 years of business technology leadership experience in the financial service and educational domains.
Prior to joining Accelirate, Harsh worked at Synechron as Software Director where he focused on emerging technologies and established a product design lab to engineer solutions for global businesses and their customers at speed and scale.
As COO, Harsh is responsible for overseeing the Automation Developer Training Program at Accelirate, anticipating talent staffing needs, is in charge of all client engagements from an executive level, and is responsible for business strategy and operations as the Automation Industry is exponentially growing and needs are shifting.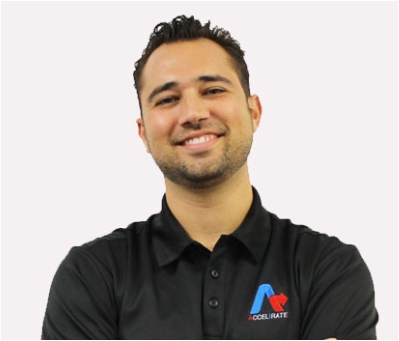 Chief Revenue Officer | Partner
As a seasoned expert in the IT Industry with experience ranging from enterprise infrastructure to the implementation of cloud strategies and automation solutions, Matt is responsible for overseeing all sales activities for the company and manages both the sales and marketing teams.
He is responsible for Accelirate's sales strategy, revenue generation, sales training, and team development.
Mr. Gallo's entrepreneurial spirit brings immense passion and leadership to the company, making him a key contributor to the company's growth and senior leadership.
SLA Based Monitoring and Maintenance of Automations in Production
RPA can be implemented in any industry that is in a need to automate its high-volume tasks & requires the reconciliation of accounts to data entry.
Take the support workload off of development and leadership teams.
Accelirate Managed
Service Program (MSP)
Reduce RPA program costs by 50%
Procure licenses, Infrastructure, development capacity & support in a managed service model.
Reduce your Total Cost of Ownership with our "infinite" automation capacity
What are Accelirate's
Managed Services?
Accelirate's Manage Services is an
Automation Subscription Service
that provides clients with all the
licensing, development, and automation support needed to Automate Processes.
This managed service includes Product Licensing and Infrastructure combined with End-to-End Delivery, Process Execution, and Support services.
For most organizations, the main challenge in scaling RPA is the substantial upfront cost which may not yield returns until further down the line. With Accelirate's RPA365®, clients pay a monthly fee for all their automation needs and see the business value of their investment as they pay.
This consumption-based model enables clients to invest optimally and continue to increase the ROI from Automation.
RPA Software Licenses
Robots, Document Processing, AI, Human Interaction
Infrastructure
On Premises or Cloud
Automation
Development

Support

Process Analysis
Solution Design
Development and Testing
Deployment
Hypercare

Run Automations
Handle Technical Exception
Resolve Business Exceptions
Optimize Execution
Provide Metrics
Accelirate offers a wide range of proprietary tools and services that support every element of a process automation journey. Our Emerging Technology Delivery Pods are able to dissect a process in its entirety, evaluate current KPIs, and determine a plan for optimizing and enhancing a process to meet the new and desired performance metrics.
Improve business outcomes by optimizing inefficient processes
The Enterprise has several bot licenses and a few automations in production but is uncertain of how to scale their program to increase ROI.
Accelirate's process discovery methodology amplifies the potential of automation while also filtering out potential "waste" tasks in your organization to maximize ROI.
Process Discovery
Benefits
Increase Employee Capacity
Decrease Average Cycle Time
Enhance Employee Experience
Improve Customer Satisfaction
Eliminate Processing Errors
Process Discovery
Delivery Pod
Automation subscription service that provides with all the licensing, and automation support needed to Automate Processes.
The Enterprise wants to scale their RPA program while avoiding substantial upfront capital investment and licensing fees.
This model enables clients to invest optimally and continue to increase the ROI from Automation.
A value-based delivery model with a monthly subscription that prioritizes the effective execution of RPA practices while reducing expenses & augmenting ROI.
Managed Delivery
Services
Helping enterprises execute their RPA implementation within a development & production-ready environment.
Process Discovery – Various Packages
Monthly packages for each enterprise's unique automation needs.
Process Automation Delivery Services
Automate your manual or repetitive tasks, processes and workflows to increase efficiency, accuracy and reduce costs.
Robotics Operations Center
An end-to-end RPA scaling program to maximize process automation deployments, maintenance, and bot infrastructure monitoring at a lower cost.
Comprehensive execution of processes with automation & business ROC.
Why choose Managed
Delivery Services?
USA
Headquarters 440 Sawgrass Corporate Parkway, Ste 210, Sunrise FL 33325
505 Thornall St, Ste 305, Edison NJ 08837
India
Accelirate Softech Pride House, Unit 101, 1st Floor Ganeshkhind Road, (Pune University Area) Pune, Maharashtra 411016
Gateway Building, MG Road, Ballalbagh, Mangalore, 575003
Office No-709, One World West, SP Ring road, Ahmedabad, Gujarat, 380058
Colombia
Carrera 7 #116-50 Bogota, Colombia 110111
Carrera 42#5 SUR-145 Medellin, Colombia 050021
United Arab Emirates
Dubai Silicon Oasis, DDP, Building A2, Dubai, United Arab Emirates
+971 542369936