The Strategic Importance of UiPath Automation Hub in an Organization
Featured Insights
May 3, 2023
UiPath Automation Hub is a comprehensive solution that enables organizations to identify automation opportunities, manage automation pipelines, and maintain a process repository in a collaborative manner. By creating a community of interest for RPA, it empowers employees to drive automation initiatives, thereby accelerating the adoption of RPA across the organization and empowering employees to drive automation initiatives forward.
The Automation Store in Automation Hub enables business users to effortlessly browse and search for pre-built automation that can be downloaded and utilized. Once the desired automation is selected, it is then seamlessly transferred to the user's personal workspace in Orchestrator.
Why do you need UiPath Automation Hub?
Many organizations have
hugely benefitted from RPA's ground-breaking capabilities
in today's fast-paced business environment.
However,
a considerable number of them
continue to
encounter difficulties in
unlocking
and realizing the full potential of automation.
The UiPath Automation Hub allows you to do so.
For instance,
integrating Automation Hub with Task Capture and Process Mining
equips your organization with the three essential components that facilitate the scalability of automation
.
The automation program benefits from the involvement of key contributors, including the Center of Excellence team, IT department, Citizen Developers, and business users.

 

Establishing a standardized framework and language around RPA, adopting best practices, and implementing governance measures.

 

One-stop coverage of the entire automation lifecycle, spanning from opportunity identification to implementation and including storage for related documentation and the ability to leverage reusable code.

 
What challenges it solves?
The UiPath Automation Hub was designed to address real business challenges related to managing an RPA program within an organization. It achieves this by offering a range of distinctive features.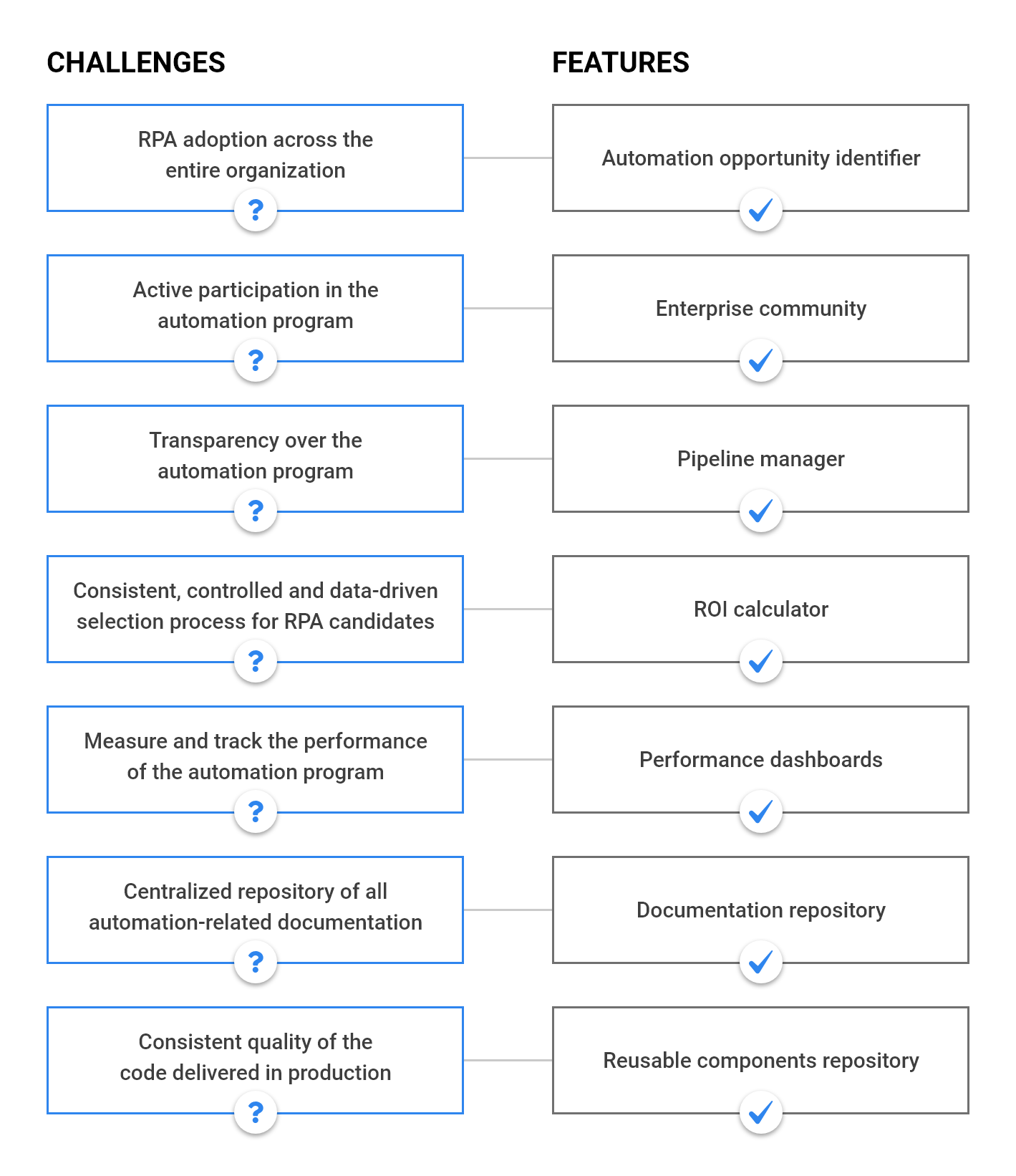 Who uses UiPath Automation Hub?
A typical RPA program involves multiple personas, and the Automation Hub was created to cater to each of their needs.
Employee with Automation Idea:

Business users require both transparency on the automation program and a user-friendly platform to share their ideas and expertise.

The C-suite:

The executives in the C-Suite require a centralized and dependable reference for evaluating the effectiveness of the automation program, along with easily understandable data to aid in their decision-making.

Center of Excellence leaders and their teams:

The members of the Center of Excellence require a unified platform to store information and documentation, as well as collaborate on automation concepts and bring them to fruition.

Citizen Developers:

Citizen Developers require a platform to share their attended automation that can facilitate their own work or aid others within their organization/department to simplify the tasks.
What do you need to submit an automation idea?
With UiPath Automation Hub, you can actively participate in the RPA program by submitting your ideas through an employee-driven idea submission process. It is designed to offer a user-friendly experience, enabling you to easily navigate and submit your ideas using conversational language. This information is then used to conduct a high-level assessment of the feasibility of the automation idea.
How do ideas become automated?
After submitting an automation idea, it undergoes an approval process by the Idea Approver. The Process Owner then evaluates the most promising ideas, and they are subsequently assessed by decision-makers and the RPA Center of Excellence leader for qualification. If an idea passes this stage, it advances to implementation, which is carried out by the RPA Center of Excellence and other collaborators.
Authorized users' automation ideas undergo a lifecycle, which is illustrated below: