GrowFL Top Florida Companies to Watch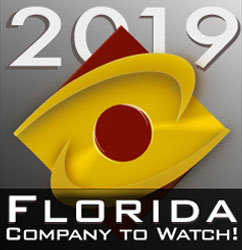 After 3 rounds of thorough judging by the GrowFL and Edward Lowe Foundation Committee, Accelirate Inc. was selected from more than 500 companies nominated by an economic development organization as one of the Top 50 Florida Companies to Watch. This statewide competition identifies companies that are expected to see significant growth over the next several years and offer an outstanding management team, competitive market position, and strong community involvement.
"These stand-out companies are all led by entrepreneurs and have demonstrated their capacity and intent to grow," said Dr. Tom O'Neal, GrowFL executive director. "They all have critical intellectual property or a niche position that gives them a competitive edge in their markets."
Accelirate was officially honored at the annual GrowFL Awards Gala At Universal Studios in Orlando in November 2019. was featured in the GrowFL Companies to Watch Newsletter, and highlighted on the Florida Virtual Entrepreneur Center Website.