Accelirate Named a Best Place to Work in IT 2020 by Computerworld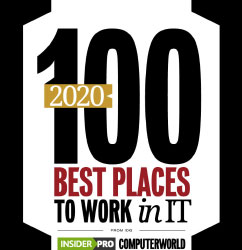 Accelirate employees referred to the robust benefits, challenging projects, and opportunities for growth as reasons they take pride in working for the company. With its unique in-house training program, Accelirate places high value on hiring and developing the best talent for the role and offers employees a wide range of relevant training courses and access to a continued education.
Another major factor cited was the company's vibrant and inclusive culture. Accelirate's HR team understands that employee satisfaction drives success, and makes it their top priority to provide employees the resources they need to perform at the top of their skill sets. Employees describe the Accelirate workplace as one that fosters teamwork, personal growth, and the sharing and exploration of new ideas.
"It is an honor to be recognized for the dynamic workplace we have built," said Accelirate's Chief Automation Officer, Ahmed Zaidi. "This is a collaborative environment in which we are constantly innovating, reimagining, and questioning the status quo."
About The Best Places To Work In IT List
The Best Places to Work in IT list is an annual ranking of the top 100 work environments for technology professionals by Insider Pro and Computerworld. The list is compiled based on a comprehensive questionnaire regarding company offerings in categories such as benefits, career development, training and retention. In addition, IDG conducts extensive surveys of IT workers, and their responses factor heavily in determining the rankings.