20 Most Promising BPM Companies of 2018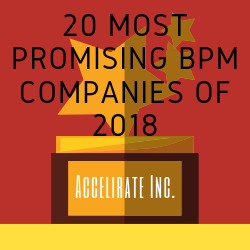 Accelirate was named one of the Best Workplaces for 2020 by national business publication Inc. Magazine. The magazine's annual Best Workplaces list recognizes American companies that have created exceptional workplaces through vibrant cultures, deep employee engagement, and stellar benefits. Since being founded in 2017, Accelirate has built a welcoming and cohesive culture that places high value on employee engagement. With a workforce currently consisting of over 225 employees, the niche RPA services company continues to cultivate a work environment that emphasizes personal development, team alignment, and the sharing and exploration of new ideas. Inc. Magazine received over 3,000 submissions for this year's Best Workplaces list before narrowing down 389 finalists. Each nominated company took part in an employee survey on topics including trust, management effectiveness, perks, and confidence in the future. Inc. analyzed the data, then ranked all the employers using a composite score of survey results. The strongest engagement scores came from companies that prioritize the most human elements of work. These companies are leading the way in employee recognition, performance management, and diversity. Accelirate's CEO Zia Bhutta describes the workplace as one that allows employees to have fun while being challenged to work at the top of their skill sets. The talented employees at Accelirate along with a "Work Hard, Play Hard mentality" proved to create one of the strongest company cultures in the country and were some of the noteworthy elements that stood out to Inc. Magazine when selecting the honorees.
"Building a great corporate culture comes only from strong leadership," says Inc. magazine editor-in-chief Scott Omelianuk. "The companies on Inc.'s Best Workplaces list are setting an example that the whole country can learn from, especially now, when company culture is more important to the workforce than ever."
Click here to see the fill list of honorees.