Mulesoft Integration Services
With the rise in the digital transformation there has been an exponential increase in the usage of various cloud based & on-premises applications. This has exposed the organizations with the huge heaps of data generated daily that need to be managed and processed efficiently. This massive change has led the organizations adopt many new web applications, innovating and pushing their limits every day. To enable an uninterrupted data flow and seamless data handling experience, working with different applications together has become imperative. Hence, for organizations to scale and manage their current growth, they must rely on various applications and database simultaneously and so they cannot opt for point-to-point integrations. Here arises the need of an efficient and secure system integrator.
Considering the level of data security, ease of connectivity, flexibility with growing number of data formats & protocols, scalability, agility, and ease of use, MuleSoft offers huge advantage over other integration tools.
Mule ESB as a system integration solution
Mule as an ESB is a widely adopted integration solution due to its light-weight design, ease of use, scalability, connectors library and prebuilt accelerators. It is an impressive standalone integration platform enabling a solid and scalable integration architecture.
MuleSoft for your integration requirements
With the help of MuleSoft's AnyPoint™ platform, you can connect and manage all your networks, devices, applications & software. MuleSoft's API led connectivity approach for integration has revolutionized the arena by enabling development, deployment, management, security, and reusability.
Why Choose Accelirate

as your Mulesoft partner?
Boost your Business Operations with MuleSoft Integration
Speed up processes by up to 50% with MuleSoft API integration
Quality-Driven System Integration Solutions with MuleSoft Anypoint Platform
Ensured Security & Confidentiality
24/7 Support & Maintenance
Highly-Experienced Team of MuleSoft Consultants and developers
Accelirate has successfully served clients globally, with operations currently running in more than 15 countries with the best MuleSoft developers
We have pledged on Customer Satisfaction as our primary motto. That is why we are proud to announce that we have over 80% of familiar customers who have previously availed of the MuleSoft Integration services
MuleSoft System

Integration
Scalable
Mule ESB as a system integrator is highly extensible & scalable. The SDK allows you to add modules and MuleSoft's API led connectivity approach offers a highly scalable integration solution.
Small Footprint
Mule is very lean in terms of download size and memory usage, enabling a smoother functioning on virtual machines, commodity servers & developer laptops.
Mulesoft Accelerators
Enhance your customer journey with MuleSoft accelerators and pre-built environments. Various accelerators and templates are available for retail, healthcare, e-commerce, banks, etc.; helping you integrate faster.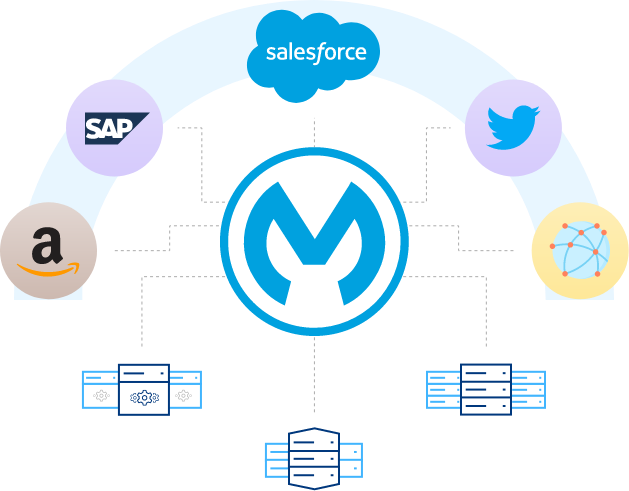 Data Security
Mule ESB offers several tools,environments & protocols like spring security, cryptography modules, spring security etc. MuleSoft enables you create multilayer defenses against attacks.
Prebuilt Connectors
Anypoint prebuilt connectors help you integrate 5 times faster. Empower your business teams by connecting various applications like Salesforce, SAP, AWS, Azure etc. and database with a click.
Cloud Connectors
Cloud connectors help you integrate the cloud applications and services in the fastest and the simplest ways leveraging the pre-built and available connectors.