RPA has many dependencies, and because of this, it's required to have a team in place to handle issues that arise from these dependencies. From a robot getting stuck to a password expiring to robot connectivity issues and network downtime, a team must be in place to manage and resolve these issues to maintain confidence in your RPA program. This is where Incident Management comes in!
What Is Incident Management?
Incident management is a process used by IT Operations and DevOps teams to respond to and address unplanned events that can affect service quality or service operations. Incident management aims to identify and rectify problems while maintaining normal service and minimizing the impact on the business.
Incident management addresses various issues that can impact service and business operations. This article will focus on Incident Management specific to RPA/Automation programs.
Incident Management In RPA
Having the right team members providing RPA Support is critical to your organization's growth and adoption of RPA technologies. There is nothing worse than a business user trying to use a broken robot, getting frustrated, then performing the tasks manually. Situations like this led to decreased confidence in RPA, reduced ROI, and more resistance to RPA adoption.
However, organizations can always fall back on the Robotic Operations Centre (ROC) in such situations. ROC teams can manage and facilitate uninterrupted automation deployment with round-the-clock maintenance and support. A highly-capable ROC team can carry out Incident Management more proactively and ensure a seamless RPA program.
An effective ROC Support team should possess the following:
Working knowledge of automation in production
Understanding of application dependencies for each automation
RPA development skills
Ability to identify and resolve robot bugs and failures.
Knowledge of incident management systems
Ability to communicate with business users.
These are just some of the traits your ROC team will need to ensure user satisfaction and enable the expansion of RPA implementations. Along with having a ROC team in charge of this support, it is also critical to leverage Incident Management systems and automation tools to operate efficiently.
Leveraging Incident Management For RPA
If you've ever had any trouble with your work computer, then odds are you have raised a ticket in an incident management system. ServiceNow, JIRA, and Monday.com are all examples of incident management systems.
These systems are used to open, classify, diagnose, and resolve tickets that users have opened when they are having problems with their technology. Organizations typically create an incident management process that documents the sequence of events the response team should address. Everyone should know which staff are responsible for handling incidents, the time it should take to solve the issue when to escalate the incident to the next level, and how to document the incident and the way it was resolved.
These systems contain all the data needed to analyze the performance of your RPA program and identify automations that have been causing the most issues. Not all systems are set up for RPA, so it is important to understand what fields need to be added to collect useful data. Below is a list of fields that are typically default and those that may need to be added to get the data needed for automation performance analysis.
| | |
| --- | --- |
| Default Fields | RPA Fields |
| ID | Process Name |
| Date Reported | Level of Effort |
| Title | Issue Category |
| Description | Business Department |
| Assigned to | Business Impact/ Priority |
| Status | Issue Category |
| Status Notes | |
| Date Created | |
| Modified | |
| Contact Method | |
| Resolved By | |
| Date Resolved | |
| Resolution Notes | |
| Response SLA | |
| Resolution SLA | |
The default fields on the left will provide information that helps you evaluate the performance of your support team. Who is handling the most tickets? How fast are they getting resolved? What is the status of a ticket? Are we seeing an increase in support needs? These are some of the questions you can answer when default fields are filled out correctly.
The RPA fields on the right will provide information that helps you evaluate the performance of your automation. Which automation is having the most issues? Does one department need more support than another? What kinds of issues is my automation having? How much effort is being spent per automation and department for issue resolution? With this information, you can evaluate what is working vs. what is not and where to invest vs. what to retire.
(Incidents Resolved per Month)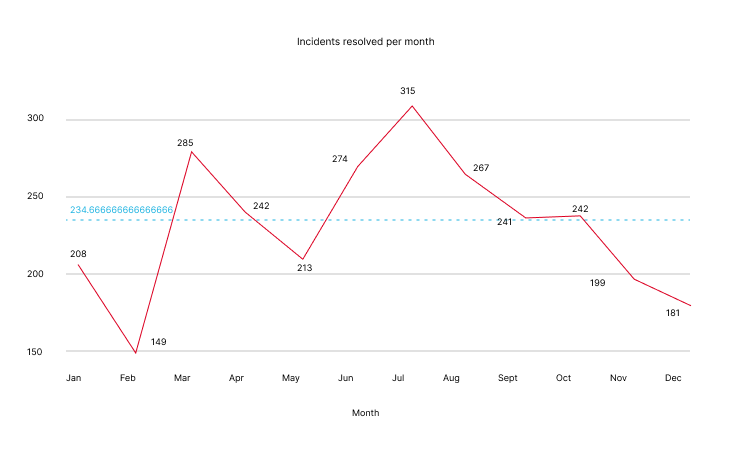 (Incidents Resolved by Process broken down Monthly)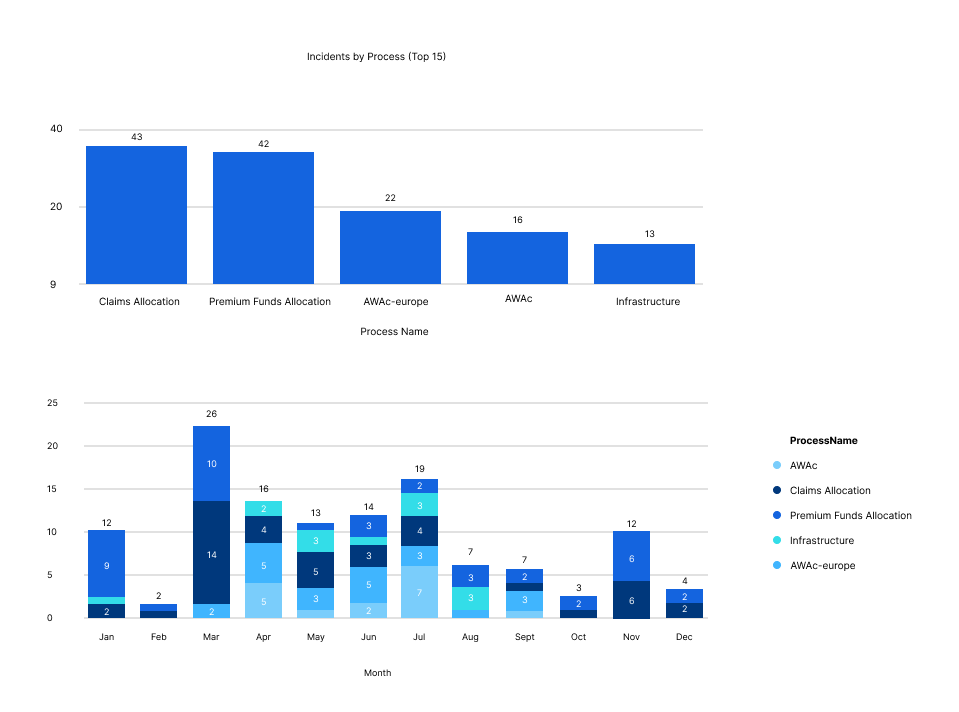 Incident Management Tools And Automation
Incident response tools and automation are more important than ever due to the growing complexity of RPA and IT operations, driven in part by the many applications organizations rely upon in day-to-day business operations.
Here are some of the most common incident management tools that ROC team can use to optimize RPA delivery & maintenance::
Monitoring tools:  These help identify robot outages, trigger alerts, and diagnose automation incidents.Monitoring tools also reduce costs by freeing RPA development teams to better manage the automation lifecycle.
Service desks: A place for users to submit tickets, chat with the service desk team, and monitor the progress of their tickets. The service desk is typically run through a management system that enables key incident management tasks, such as prioritization and categorization.
Log Analysis Platforms: Using logs and historical data, these tools can provide context for better decision-making, smarter resource allocation, and faster incident response.
All organizations need to fix problems and resolve incidents. It's how they keep the business running. It is even better when issues can be resolved without interrupting the business workflow! This is why, having effective incident resolution tools and a well-equipped ROC team who can react quickly to the incidents without causing major disruption to the business is critical. There are also some clear benefits as well, including the following:
A service-level agreement (SLA) defines the level of service a company is required to provide to a customer. Therefore, incident response and management play a key role in meeting the metrics and key performance indicators (KPIs) defined in the SLA.
Incident management tools and automation help teams identify problems and fix them quickly. This, in turn, accelerates automation process workflow and improves efficiency by allowing ROC teams to focus on core business operations instead of constant firefighting.
Increased operational efficiency: 
Incident response creates a system where issues have a clear path to resolution and helps build institutional knowledge over time. This knowledge, either held by staff or integrated into an automated system driven by AI helps document important performance metrics that can help ensure the organization is maintaining a high level of service.
Enhanced user experience: 
Service quality for the end user improves when incidents are getting fixed right the first time and are fixed faster. This begins with an easy-to-use system for reporting service disruptions and continues with good communication as incidents are addressed.
If your organization struggles to find the right fit for your RPA Support team, don't worry, you have options! Accelirate Inc has been providing
Managed ROC
/ Incident Management for organizations using RPA for 5+ years. Our teams work with RPA programs of all sizes and in every industry. We have resolved over 5000 RPA tickets, supported 650+ automation, enhanced 300+ processes, and provided stability for organizations to continue growing their RPA programs.