The Major International Manufacturing and Retail Company faces a significant challenge in its Accounts Payable department, where the team has to deal with more than 500 invoice lines for over 100 invoices daily. The manual sorting and processing of these invoices is tedious and time-consuming, taking up to an hour per invoice.
The company implemented an automated inventory management systems solution to address this issue, leveraging Robotic Process Automation (RPA) and Optical Character Recognition (OCR) technology. This case study explores the challenges faced by the company, the solutions implemented, and the remarkable results achieved through the adoption of automated inventory management systems and inventory automation.
The company's Accounts Payable department encountered several challenges before implementing the automation solution:
Sorting through 500+ invoice lines for over 100 daily leads to a labor-intensive and time-consuming process.
The manual handling of invoices resulted in errors and discrepancies, impacting inventory tracking accuracy and vendor relationships.
Limited efficiency and increased processing time hindered the company's ability to meet customer demands effectively.
Non-inventory items, such as warehouse costs and travel expenses, were not efficiently processed, leading to further operational inefficiencies.
The absence of an automated system made it challenging to allocate sizes, colors, and models accurately to each vendor, potentially affecting customer satisfaction.
To overcome the challenges faced in the Accounts Payable department, the company implemented a comprehensive automated inventory management systems solution, incorporating RPA and OCR technology. The following steps outline the key elements of the implemented solution:
Information Extraction: The inventory automation process begins with the bot downloading invoices from DocuWare and utilizing advanced text manipulation techniques to extract accurate information.
DocuWare Indexing: The bot efficiently indexes all extracted information into DocuWare, including critical invoice details such as invoice number, date, sale amount, and inventory product specifications.
SAP Invoice Posting: Invoices are cross-referenced with SAP to ensure precise matching of inventory line items and a zero balance. Discrepancies are resolved, and the invoice is successfully posted, generating a unique document ID.
Document Numbers are Logged: The automation solution accurately extracts the Vendor ID and SAP Document Number, logging this information into Excel for further processing.
Invoice Stamping: The automation solution expertly stamps the invoice in DocuWare with SAP information, providing essential details for successful processing by the AP team.
Non-Inventory Invoice Processing: The automation process extends to non-inventory items, streamlining the processing of warehouse costs, electricity bills, and travel expenses for both the client company and its subsidiary.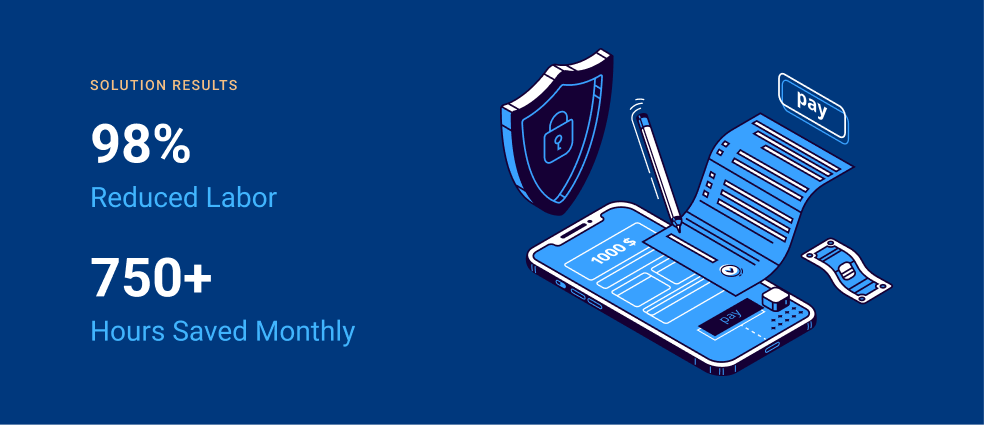 The implementation of the automation solution yielded remarkable results for the Major International Manufacturing and Retail Companies:
Labor Reduction: The automation solution eliminated 50% of the AP Team's daily volume, reducing manual labor by 98%.
Time and Cost Savings: The company saved over 750 hours monthly by streamlining invoice processing through automation, resulting in significant cost savings.