Accelirate's
Business Intelligence Services
Accelirate's Automation Pods are trained to optimize business solutions and meet stakeholder-set KPIs using data driven visualizations. Leveraging the leading data dashboard and visualization tools, our teams are able to understand and drive progress around specific KPIs and curate, track, and analyze key business metrics. Once data has been tracked and analyzed our business intelligence teams are able to automate actions with Power Automate, UiPath, OpenBots, and other leading automation tools to ensure ROI goals are met and the organization is continuously optimizing and modernizing.

Acceilrate's Emerging Technology Delivery Pods are trained on the top migration tools and leading Automation platforms to enable enterprises to migrate their automations in the most efficient manner.
Streamline Insight Distribution
Bridge Gaps Between Data and Decision Making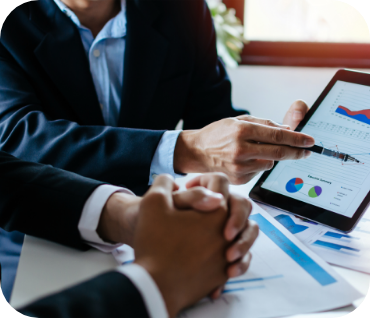 What is

Business Intelligence?
Business intelligence allows organizations to visualize data and share insights across departments. Combined with automation, managing and capitalizing on data is a business modernization technique that leverages knowledge already known. Business data, and even further, business process data, can be visualized and transformed into ROI-focused insights.
Leveraging a suite of business intelligence (BI), reporting, and data visualization products and services, Accelirate's Automation Pods can transform data into a consumable format for stakeholders, decision makers, and users across an organization.
What to Measure with

Business Intelligence
Bot Utilization
Automation/Software Failure Rates
Virtual Machine Consumption
Mom/YoY Time and Dollar Savings
Software License Consumption
Rolling Average