Why Are We So Passionate about Robotic Process Automation?…Why Not?
With over 200 RPA Automation and AI Professionals, Accelirate is the largest pure play Automation & AI Services firm in the United States
Executive Team
Life at Accelirate
Imagine waking up every day looking forward to getting back to work with the rest of your colleagues whom you enjoy being around. Consistently feeling challenged and having your ideas, and career aspirations matter. Endless snacks and fun activities such as company happy hours, ping pong tournaments, scavenger hunts, hackathons, and think tanks for innovative idea strategic planning. Your work actually making a difference in peoples lives as well as business and technology transformation. This is a peak into what its like working at Accelirate!
"Catering to a myriad of automation & technological proclivities, Accelirate and the culture cultivated are amazing environments for automation enthusiasts of all levels. Truly a magical experience." -Brennis Pierce, Automation Engineer.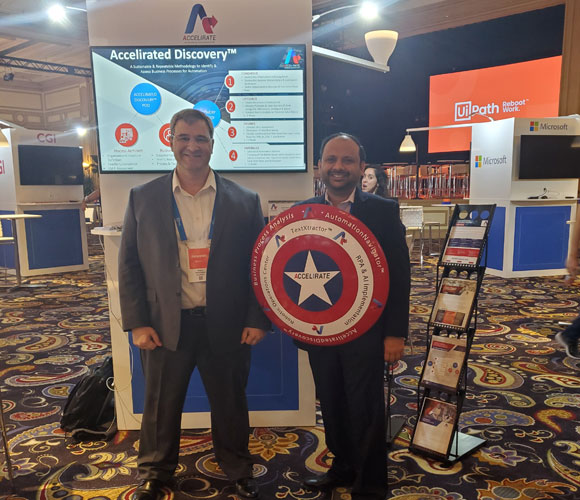 At Accelirate we have an emphasis on hiring and developing the best talent for the role. We have an amazing People Team and our Chief HR Officers' focus is professional development and talent engagement which makes this a fun and collaborative work culture. With programs such as:
CEO for the Week– An opportunity for all employees to sit in the big office and contribute towards operation-related topics.
Accelirate Training Program– Regardless of previous experience employees undergo a wide range of relevant training courses, earn certifications, and have access to continued education
Leadership Workshops- Training and guidance workshops for leaders in the making and coaching refreshers for active leaders within the company
"The office environment is friendly and energetic. There is a team-player mindset where we encourage each other towards success." -Anita Kapur, Business Analyst
Accelirate is enriched by its dynamic, multicultural atmosphere. At Accelirate, members are expected to be problem solvers and their voices are genuinely heard. Combined with an "Open-Door Policy" – everyone in the enterprise has access to everyone else. Accelirate professionals are given the resources and autonomy they need to make a lasting impact and groups are encouraged to innovate and make projects their own as long as they offer a compelling, data-driven case. Leaders at all levels strive to be inclusive and hide nothing from their teams. Working at Accelirate is not just another job, it's a career shift that encourages employees to focus on their dream role while we take care of everything else; At Accelirate, employees come first.
"Accelirate's company culture is one which constantly requires you to question the status quo and to innovate. Life at the office is very collaborative and flowing with positive energy!" -Kyle David Wilson, Automation Business Analyst.