AI90X
90-Day Artificial Intelligence Accelerator Program
Scenario: The Enterprise or Business Unit is considering AI initiatives but they are not clear on Use Cases with short term ROI
There is enough information about Artificial Intelligence out there, so we will spare our audience the basic AI questions and get right to the point. Artificial Intelligence, at the heart of it, is a Prediction and/or Decision Support Technology that uses massive internal and external data stores, allowing a business to "predict" outcomes. Examples include, but are not limited to:
A Recommendation Engine which recommends products or music to consumers based on their buying or listening patterns
All sorts of business forecasting beyond basic historical analytics and based on patterns observed from internal and external data sources (including Financial Forecasting, Inventory Forecasting, etc.)
Sales & Marketing optimization; targeting the right customer at right time and place using the gobs of data available on customer behavior and buying patterns
Customer Service via Chatbots and other text and voice-based Natural Language Processing (NLP) based Conversational Technologies
The list goes on and on. Now that we all agree, that the 4th industrial revolution is here because of AI, the question is how do we get involved with it? Every other Enterprise Software Vendor will claim that their product or service is "AI-ready", but how many of them are solving your "Prediction" problems, allowing you to see your ROI? As someone once said: "The Difference between Machine Learning and AI is that many Machine Learning programs are written in Python but AI is written in PowerPoint."
Artificial Intelligence is different than traditional programming. Rather than feeding an input and processing an output, AI requires you to feed data to it and then it will recognize the patterns in that data. This does not happen with some magic. You need Data Engineers to setup the Data Lakes, you need Data Scientists to map different AI models to the Data based on the Prediction Variables, and you need Machine Learning Engineers to consume the programs in your Applications. There are not very many capable Data Scientists out there and the job of mapping AI models to different types of Data is hard, as well as, time consuming. With the evolution of Automated Machine Learning platforms, a lot of this mapping could potentially be automated, but you still need Data Scientists to match and verify the algorithm to the Data.
We at Accelirate only focus on Process Automation problems using RPA and we are experts at that because that is the only thing we do. We use Machine Learning to make our Robots smarter and our Data Science teams are dedicated to this mission. Over the past year or so we have developed a methodology to identify Automation problems which require the use of Machine Learning (the primary technology within the AI umbrella). Our AI90X program is designed to help our clients identify such opportunities, identify and consolidate the right data sources, and deliver a working AI model to solve the problem. The table below outlines our AI90X program.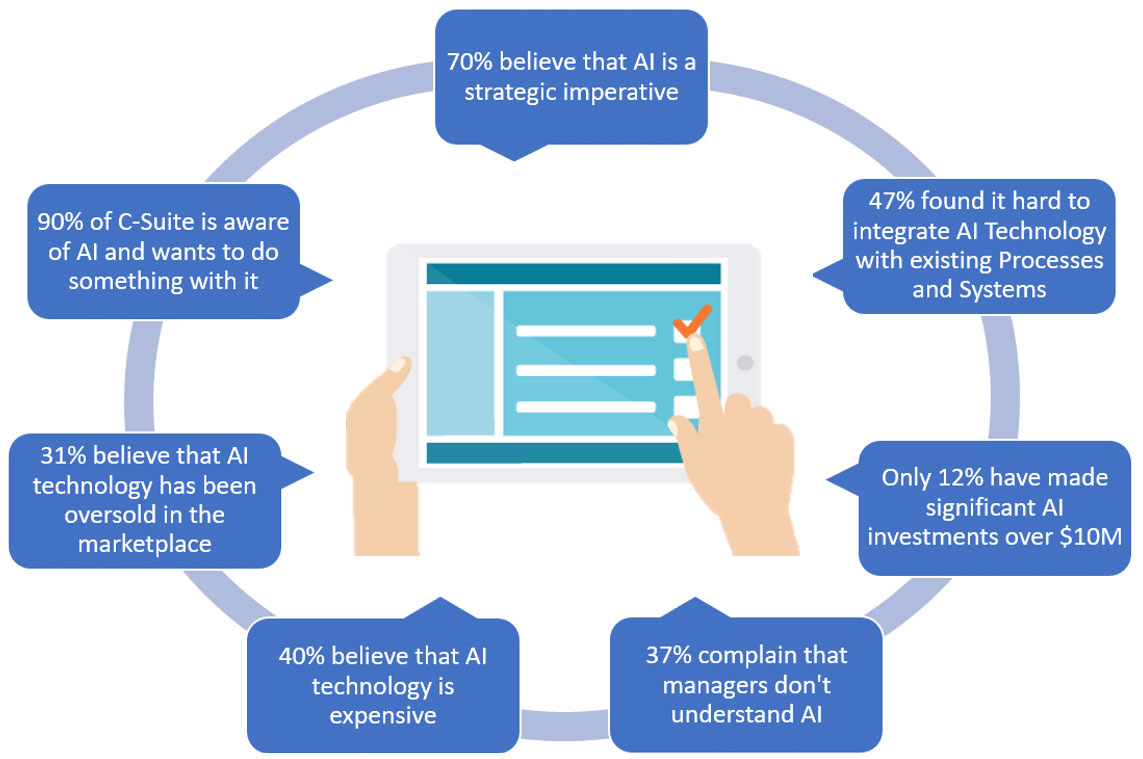 Data from a Recent C-Suite Survey
AI90X
Shortlist of AI Opportunities with Feasibility and Estimated ROI
At least one working model that provides proof of value
Opportunity Documentation for 3-4 for Business Problems
Project Proposal for 1-2 Business Problems
EDA (Exploratory Data Analysis)
Final Report & Model
At the end of this Program, the Client will have working model that produces tangible results. The Client will clearly see how AI Projects work and how they add Business value. They will then be able to determine the path toward any future investments in AI
Contact us today for more information on Accelirate's AI90X Offerings.
AI90X Delivery Model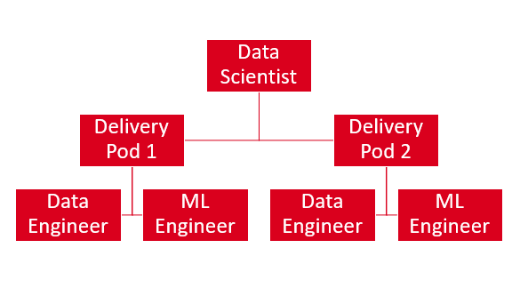 Contact us today for more information on Accelirate's AI90X Offerings.